Buying vs Leasing a Car

---
We all know that an essential part of choosing a new vehicle is the financials. It can be challenging to decide which route to take when the time comes. Here at Findlay CDJR, we've put together a light walkthrough of your options when considering buying or leasing a car.
We look forward to serving the driving communities of Findlay, Tiffin, and Fremont, OH, in their journey for a new vehicle!
---
A Quick Glance at Buying vs Leasing
| | |
| --- | --- |
| Buying | Leasing |
| Down/Monthly Payments | Down/Monthly Payments |
| On average, higher | On average, much lower |
| Tenure | Tenure |
| You own the vehicle | You're in possession of the vehicle for a few years. |
| Mileage | Mileage |
| Unlimited | Limited according to your lease deal |
The Benefits of Buying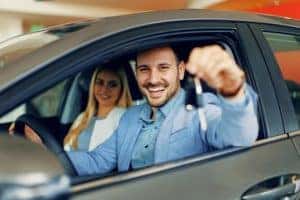 There are significant advantages if you're willing to commit if you're considering buying. Keep in mind; buying is generally better for those who want to own their vehicle and have greater control over it. While it is a more substantial commitment than leasing, like we've said, there are benefits to doing that.
When it comes to buying, a great benefit is that you aren't beholden to mileage limitations and can drive as much as you like. That breath of freedom is refreshing if you've previously only leased cars. Another benefit is that with ownership, you can make any modifications to the car that you like.
Finally, another benefit is that with buying, you can earn equity toward your next vehicle purchase. So, it generates additional value over the lifetime of ownership, which makes buying a wise investment.
The Benefits of Leasing
Alternatively, leasing offers benefits without the long-term commitment of buying. As we've seen in the quick facts chart above, leasing typically requires less of a financial buy-in. Your payment rates will generally be lower than buying; plus, you'll be able to walk away after the lease is over.
To put it into a broader context, leasing is an excellent option for drivers who want a vehicle but don't necessarily want to be involved with a financial plan. With lease deals only lasting a handful of years, you're able to go from car to car pretty seamlessly.
Automotive Financing
Here at Findlay CDJR, we have a solid financial team that's ready to help you in the process of deciding on buying or leasing. They're well trained in both and are excited to help. But let's look at an overview of what we offer.
We have deals on Jeep vehicles that you can talk to a financial team member about. If you're looking to own a new or used car, SUV, truck, they can help you determine a comfortable down payment, then help secure you an auto loan with a competitive rate.
To help you prepare for your visit, we've put together some tools:
Payment Calculator: Using the payment calculator will help you see what sort of monthly payments you have based on the model and trim level you want.
Value Your Trade: Do you have a car you are currently driving that you want to sell before getting your new ride? Use our trade-in value tool to see what you can earn and possibly put toward the down payment by trading in your vehicle.
Financing Application: You can also get pre-approved right online. Just fill out our financing application and let our team get to work developing a payment plan for you right away!
---
Drive With Us Today!
Now that you've had a chance to look over the benefits of each option, it's time to take the next step. No matter which route you choose, here at Findlay CDJR, we'll do our best to make it right for you. So, the next time you find yourself in the areas around Findlay, Tiffin, and Fremont, Ohio, call 419-455-1233 to schedule a test drive or financial appointment!
---