Comparing the 2020 Jeep Wrangler Unlimited and the 2020 Toyota RAV4 TRD Off-Road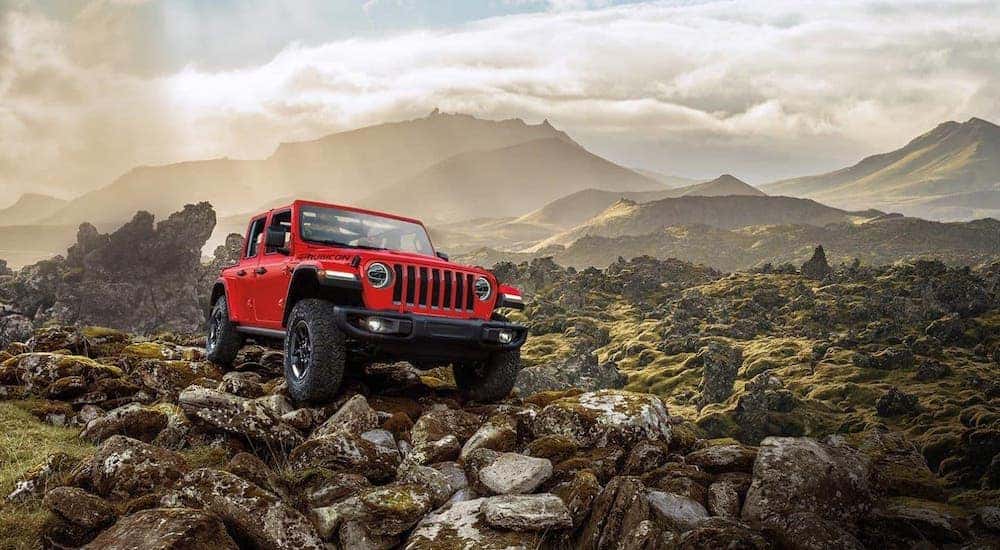 Off-roading is a big deal for a lot of drivers, especially here at Findlay Chrysler Dodge Jeep RAM. Fortunately, there are plenty of vehicles out there that promise a great off-roading experience, especially when it comes to four-door models. That said, few live up to the promise of the four-door 2020 Jeep Wrangler Unlimited. Long recognized for its capability off the pavement, the Jeep Wrangler is something of an off-road cham. If you are interested in one and you're searching "Jeep dealer near me," you can certainly trust that Findlay Chrysler Dodge Jeep RAM will get you into the perfect vehicle for you. That said, there are many competitors out there that attempt to live up and at times, exceed the expectations of the Jeep Wrangler, more particularly the 2020 Toyota RAV4 TRD Off-Road. An off-shoot of the Toyota RAV4 lineup, the TRD Off-Road model is tweaked to provide a wide range of trail-chewing gear that may, or may not, put it above the capability of the Jeep Wrangler.
From a Bird's Eye View
From a top-down view, the standard Toyota RAV4 will never outperform the Jeep Wrangler on the trail. On its own, the Toyota RAV4 is a simple and small SUV that can be configured to fit several different purposes. The available trim levels include the LE, XLE, Adventure, TRD Off-Road, and Limited, with hybrid variants of the LE, XLE, XSE, and Limited. So, as you may already notice, the Toyota RAV4 is a rather multi-faceted SUV, although only a small section of its trim offerings are tailored for off-road versatility. As a result, what's available may be good, but not great for the avid off-roader.
When it comes to off-roading, you want a particular set of features that are going to provide you not only with the capability but the protection you need to take on the trail. Things like high-end ground clearance, allow you to mount obstacles in the outdoors without worrying about scraping the undercarriage of your car. Chunky off-road tires do an excellent job at gripping various terrain and can provide you with traction security when driving in adverse conditions. A torque-centered engine can provide you with the power you need to clamber over obstacles with ease. And of course, no off-road vehicle would be complete without a competent four-wheel powered drivetrain. While some models can get by with a dynamic all-wheel drivetrain, it is the 4×4 SUVs that truly excel when put to particularly challenging off-road problems.
So, any great off-road vehicle is going to need to live up to some pretty steep expectations. While the Toyota RAV4 is pretty diverse in its spread of features and configurations, for the sake of this article, we'll look specifically at its TRD Off-Road trim and how it takes on the trail; and how this 'jack of all trades' compares to the Jeep Wrangler Unlimited.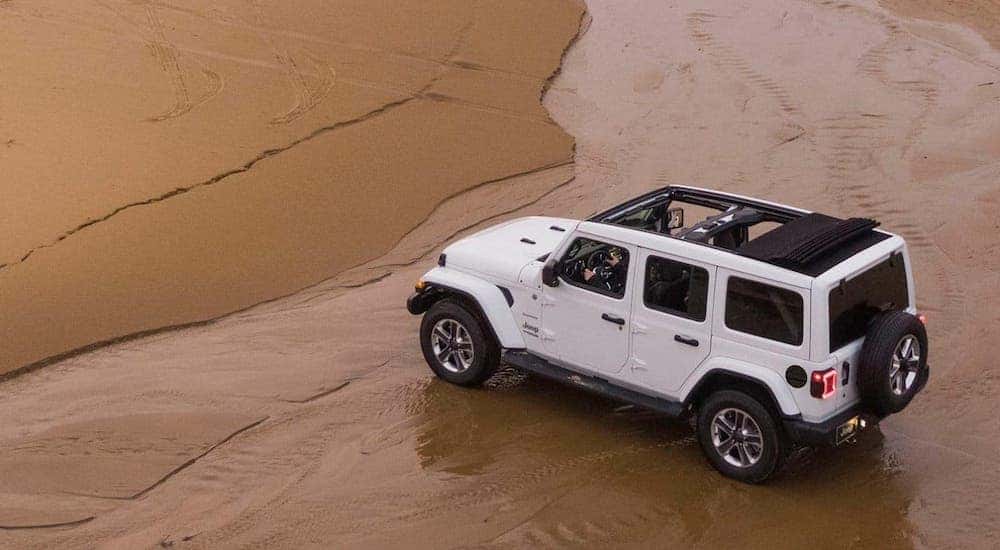 Engine Power and Variance Matters
When it comes to off-road capability, the engine and drivetrain ought to be a top focus. The 2020 Jeep Wrangler comes with a variety of engine options to choose from, and each of them is paired with a truly capable 4×4 drivetrain that can make its way through dirt, mud, snow, and ice without missing a beat. The base engine of the Jeep Wrangler is a 3.6-liter V6 engine with an 8-speed automatic transmission, which delivers 285 horsepower and 260 lb-ft worth of torque. You can also equip the Jeep Wrangler with a 2.0-liter turbo-4 engine, which reduces horsepower to 270 but manages to provide some serious low-end power. Both of these engines can also be equipped with Jeep's new mild-hybrid eTorque system, which improves low-speed power delivery. A 3.0-liter turbodiesel V6 engine will also be available sometime in the future, expanding on power-delivery and fuel economy.
So, how does the Toyota RAV4 TRD Off-Road compare? Well, unfortunately, each model of the Toyota RAV4 comes with a 2.5-liter inline-4 and an 8-speed automatic transmission, which only delivers 203 horsepower and 184 lb-ft worth of torque. A front-wheel-drive is standard on all models but the TRD-Off-Road, Adventure, and Limited. Instead, these trims are paired with an all-wheel-drive system that adds to traction and handling control thanks to an intricate braking system that keeps the wheels from slipping. This all-wheel system is pretty nifty and does a decent job at competing against other vehicles in the segment; however, it is no match for the four-door Jeep Wrangler Unlimited, particularly when the Wrangler is upgraded to the Rubicon trim.
Sometimes the Gear Can Make the Car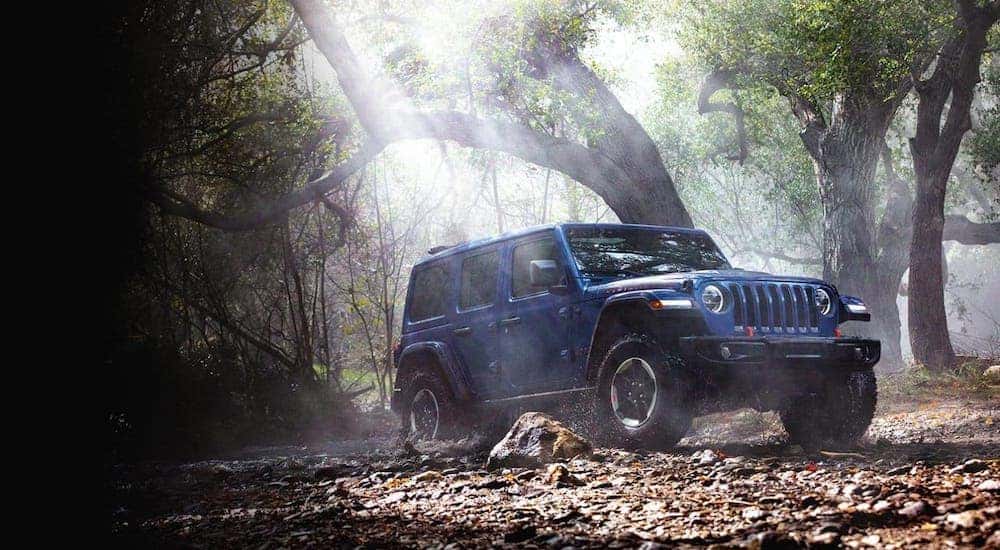 The Toyota RAV4 TRD Off-Road and the Adventure trim are about as outdoorsy as this Toyota SUV can get. Sure, you'll get knobby all-terrain tires set on 18-inch wheels, a power liftgate, and twin-tube shocks, but that's about all you can expect. Much of the gear that comes in the off-road tweaked Toyota RAV4 is aesthetic. For instance, the Adventure model comes with orange accents and plenty of leather, while the TRD Off-Road comes with a bit of red flair. The Toyota RAV4 Adventure and TRD Off-Road do enjoy 8.6 inches of ground clearance and a beefier suspension, but it is a small respite compared to what you can expect inside the Jeep Wrangler Rubicon.
The Jeep Wrangler Rubicon is a -road champion that won't hesitate when faced with several different terrain types. For starters, even the base model Jeep Wrangler starts with some stellar ground clearance, measuring in at 10.0 inches. As a result, when you take to the trail in the Jeep Wrangler, you can enjoy some pretty smooth riding, with pretty minimal stress of scratching the underside of your vehicle. The Rubicon trim expands on what the base model provides in structure in design, with a wide array of gear. The Rubicon model offers up 33-inch tires, a set of locking differentials, disconnecting sway bars, and a seriously beefy suspension. In the Jeep Wrangler Rubicon, you'll also get a set of removable doors, which gives you the ability to enjoy the beauty of nature uninterrupted. While the Jeep Rubicon is a two-door model of the Jeep Wrangler, the gear alone justifies the sacrifice of extra room, and not only that, but it shows just how outdoorsy the Jeep Wrangler can get.
The Jeep Wrangler-The Best There is in Off-Roading
While the Toyota RAV4 does do a decent job at dipping into the off-road market, it isn't nearly as immersed as the Jeep Wrangler. In many ways, the Jeep puts off-pavement driving before on-road performance in their flagship SUV. The result of this choice is a vehicle that can take on a wide variety of terrain challenges with ease. So, when it comes to off-roading, we couldn't suggest the 2020 Jeep Wrangler enough, and if you're looking for a four-door model, the Jeep Wrangler Unlimited is undoubtedly the best choice. When you visit Findlay Chrysler Dodge Jeep RAM, we can show you in person just how incredible the Jeep Wrangler is, and why it continues to be such a hit year after year. And if you decide to take the plunge and take one home for you, we'll make the car buying process as seamless as possible.