Local Spotlight: Children's Museum of Findlay
---
Learning is vital for fostering the growth and development of children. Not only can learning help bolster a child's future career interests, but learning can also help them explore their creativity and learn more about themselves. However, sometimes the best learning available takes place outside the classroom and apart from dense textbooks. To give your child a fun and interactive experience while also giving them a chance to further their education, you should check out the Children's Museum of Findlay!
About the Museum
The Children's Museum of Findlay is a 501(c)3 nonprofit organization that first opened in July 2014. What separates CMF from other museums is its emphasis on being a museum exclusively for kids. The staff understands that children being able to play helps to facilitate their health and development, mentally, physically, and socially, and so the museum acts as a safe haven for children to expand their imaginations and creative spirits through a variety of hands-on exhibits that'll teach children more about science, technology, engineering, arts, and mathematics.
Exhibits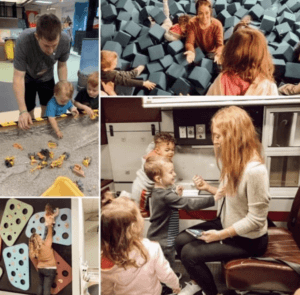 At CMF, there's a variety of exhibits that children can participate in from ages one and under and all the way up to 10. In addition to providing exhibits such as a climbing wall, a play area for infants and toddlers, a theater where children can dress up in costumes, and a Glow Zone where children can experiment with drawing black lights on glow walls, the museum also has a variety of exhibits that can help teach children practical life skills and even expose them to various future careers. Some examples include:
Kids Bank: In this exhibit, children learn about the importance of banking and making financial decisions in a fun environment. They can practice being bank-tellers, filling out forms for withdrawals and deposits, and improve basic math and social skills.
Dentist: In this exhibit, children learn about the importance of good dental health as well as some basic ins and outs associated with dentistry, which even allows the children to use actual dentist equipment.
Grocery Store: Kids can practice community life skills cooperating and working with others while also learning more about what exactly it takes to go shopping at the grocery store. Equipped with kid-sized carts and shopping baskets, they are able to shop for real grocery items that include non-perishable items such as cereal and rice.
Post Office: In this exhibit, kids can dress up and become post office workers and deliver mail around Little Main Street.
These are just a few small examples, with other exhibits featuring how to be a firefighter, the importance of recycling, a vet clinic and nursery, pretending to be a teacher at the Schoolhouse exhibit, and much more! Whatever the age of your child, there's bound to be something of interest that will not only be a fun and interactive experience but will also teach them important life skills that they'll be able to carry with them into adulthood. The museum also offers special rates for field trips as well as birthday parties.
---
Call or Visit Today
The Children's Museum of Findlay is the perfect spot to enrich your child's growth! Plan a visit with your little ones today! You can also visit their Facebook or Instagram to learn more about their latest exhibits and events.