There is a Used Ford F-150 For Everything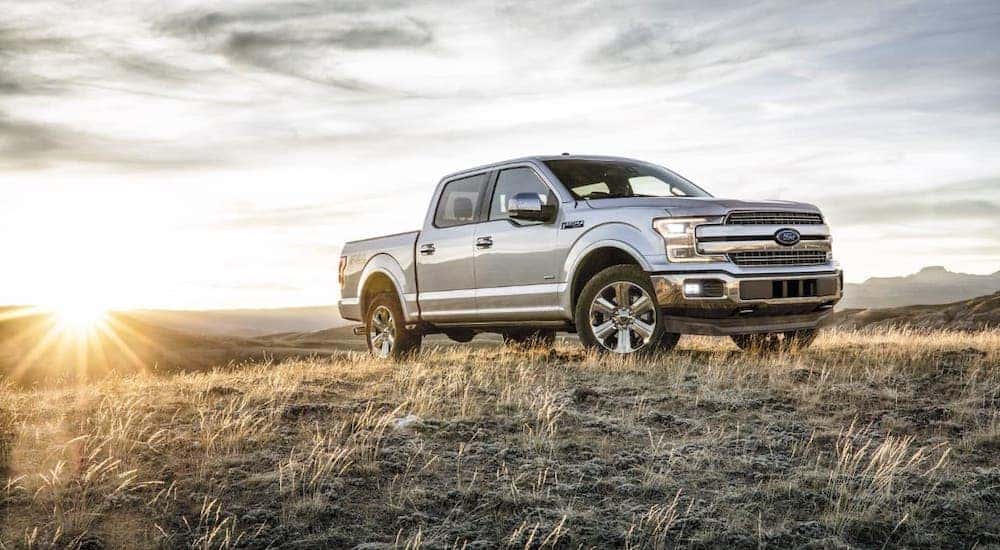 If you're looking for used trucks for sale, the first consideration to make is how you will be using your vehicle. Is your need work-related? Do you want to tow a boat or an RV? You may be looking for a rugged work truck that can haul building materials or other cargo. But whatever your need, it's likely that you'll find a used Ford F-150 that fits the bill. Ford has been manufacturing the F-Series line of trucks since 1948, and it has undergone thirteen generations of evolution since its inception. This upcoming model year, 2021, will be the beginning of yet another generation, bringing this model up to a total of fourteen.
That's great news for used F-150 buyers because many current owners will want the newest version, so you can expect some low mileage, fairly new Ford F-150's to become available on the used market. The thirteenth generation of Ford F-150 pickup trucks launched in 2015 with some significant changes to the body, technology, and safety, as well as available trim levels and capabilities. And because of all these pieces, we at Findlay Chrysler Dodge Jeep Ram in Findlay, OH, suggest starting your search with this generation.
So let's take a closer look at the thirteenth generation of Ford F-150 trucks. Factors like reliability, durability, and value become important when purchasing a pre-owned vehicle. We are going to examine this generation of F-150s from bumper-to-bumper, paying close attention to its powertrain options, body and structure, and overall reliability. Let's get started.
Powertrain and Structure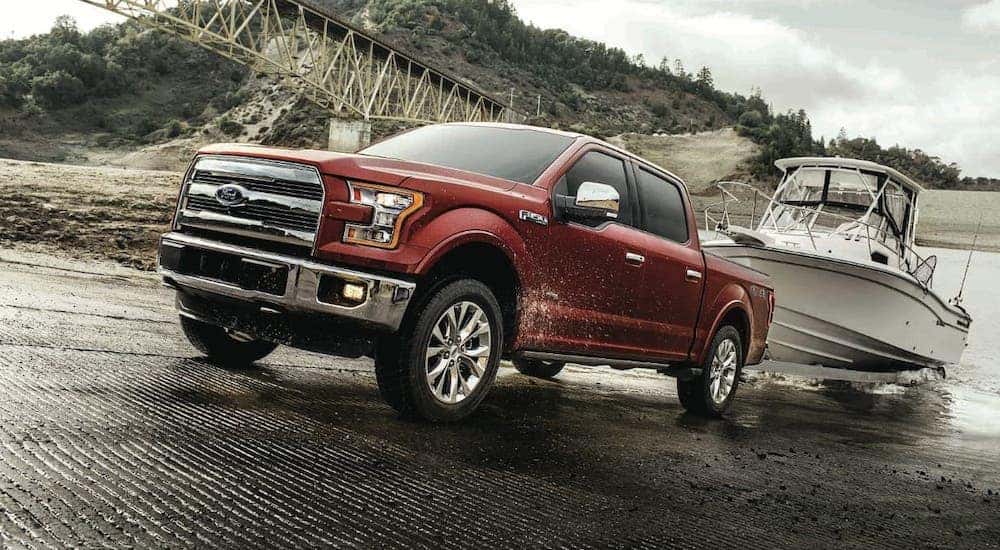 The thirteenth generation F-150, launched in the 2015 model year, represents Ford's foray into utilizing aluminum on a mass scale. This generation is built with a high-grade aluminum alloy body. And other components in the engine are made with aluminum as well. The benefit is a lighter structure than vehicles built with traditional steel, which translates into better fuel economy and the ability to manage larger payloads. Aluminum is also rust-resistant, rendering the F-150 more durable and able to endure damaging winter weather.
Is safety compromised with this lighter body, though? The Insurance Institute for Highway Safety doesn't think so, as they rated the F-150 a Top Safety Pick. Overall, Ford's decision to manufacture the thirteenth generation F-150 with aluminum is a major benefit to consumers and a massive upgrade to the quality of these trucks. The bottom line: using aluminum carved nearly 750 pounds off the F-150's total weight, which resulted in better performance.
As for the powertrain, Ford focused on merging power, performance, and fuel economy via more efficient motors and better transmissions. This involved tweaks to the EcoBoost line of engines, with Ford increasing fuel economy and horsepower. For example, in 2017, Ford's 3.5-liter EcoBoost engine was redesigned to include auto start/stop technology, which saves fuel. That redesign also saw a horsepower increase, which led to a whopping 385 hp due to an upgrade to the engine's fuel injection process.
The thirteenth generation F-150 also saw the addition of a 10-speed automatic transmission. While, previously, a six-speed was the only transmission available. Overall, the performance, power, and safety of the F-150 were fantastic throughout the thirteenth generation.
The 2017 Raptor
In the 2017 model year, the big headline was Ford's reintroduction of the popular Raptor trim level. The Raptor is the F-150's biggest and most aggressive version of America's best-selling pickup truck. The F-150 Raptor is performance-oriented, and Ford gave it a 3.5-liter twin-turbo EcoBoost V6 that delivered a very impressive 450 hp and 510 lb-ft of torque, earning it high-performance grades by automotive journalists. The Raptor also included a special sports suspension and upgraded 35-inch tires, making it a beast of an off-roader.
The Raptor can take you from zero-to-sixty in roughly 5.1 seconds, and the nifty drive mode selector allows you to switch between several pre-programming driving modes, including Normal, Sport, Weather, Mud/Sand, and Fock. These modes are programmed by Ford engineers to adapt the Raptor to the driving conditions you select, adjusting gear ranges, suspension, and other systems automatically. Plus, its wide stance makes the Raptor enjoyable to drive in normal road conditions too, and the cabin is large – especially when a SuperCrew Cab body style is selected – and comfortable for driver and passengers.
Speaking of the interior, Ford outfits the Raptor with several comfort and luxury features, including a leather-wrapped steering wheel and an 8-inch touchscreen infotainment center. Optional packages allow buyers to equip the Raptor with every imaginable convenience option, like automatic climate control, heated and cooled power seats, an interior color package that enhanced the seats with orange stitching, and peppered the cabin with aluminum accents, and even an available power moonroof. As far as used F-150s go, this may be the best one.
Capabilities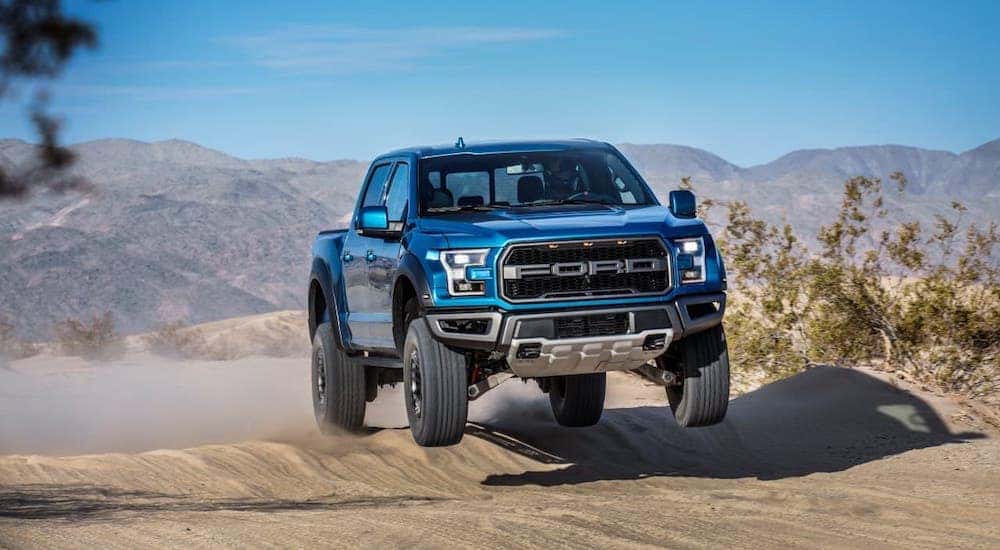 The thirteenth generation F-150s spanned five years, which means that many tweaks and changes were made throughout the manufacturing period. It's important to look at some of the changes that were made so that you have specific data and specifications to compare. Engines changed and were optimized, as well as trim levels and the availability of technology features like driver assist systems.
Because the thirteenth generation F-150 saw a reduction in larger engines, many were concerned that the truck's capabilities would suffer. The large 6.2-liter V8 engine was discontinued, leaving just one V8 to choose from. The focus was squarely on the EcoBoost V6, but could it deliver the power needed for the F-150 to remain at the top of the list for trailering and payload capacity?
Luckily, Ford looked at the F-150's powertrain as a total system, and in 2017, a 10-speed automatic transmission was added to the mix. This, plus the lighter weight of the truck overall (due to the use of aluminum), kept the F-150 competitive while improving fuel economy. As an example, in 2018, the Ford F-150 offered a max towing capacity of 13,200 lbs and a max payload of 3,230 lbs when equipped with the 3.5-liter EcoBoost V6 engine, more than when equipped with Ford's 5.0-liter V8, which offered just 11,600 lbs.
In addition, Ford added a Pro Trailer Backup Assist system to aid drivers looking to tow. The Backup Assist System utilized cameras to help with hook-up and applied app-based technology that could monitor the trailer, including lighting and tire pressure. This feature shrinks the learning curve for those working with trailers for the first time and keeps the trailer, the cargo, and the driver safer, preventing damage from accidental moves and giving the driver more confidence and control. And overall, with this system and the top-notch performance offered by the various engines, it is clear that the F-150s from the thirteenth generation are some of the best on the market.
Why Buy the Thirteenth Generation?
Overall, the thirteenth generation of F-150 trucks offers used truck buyers a great opportunity to take advantage of significant structural upgrades and a massive weight reduction, which paved the way for better fuel economy and excellent towing and payload capabilities. Throughout each model year, Ford tweaked styling, improved engine performance, and added trims in order to have a solution for any and all half-ton pickup truck buyers. With all of that in mind, if you are in the market for a used truck, you should certainly consider a thirteenth generation F-150.