2021 Ram 1500 TRX: The Ideal Pickup Truck for the Adventurer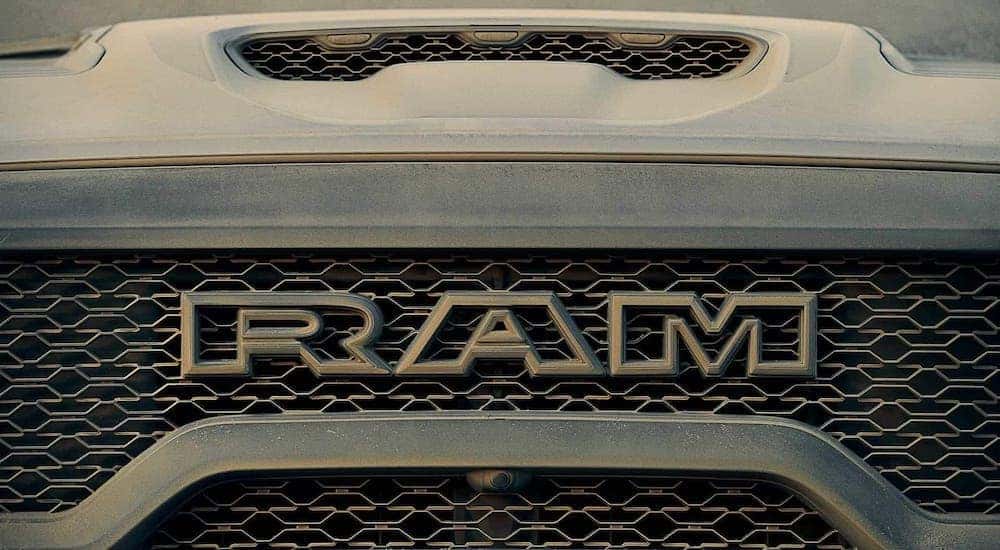 Have you been considering visiting a Ram dealership near you, but aren't sure what to look for when you get there? Well, things are about to get a whole lot less confusing because the vehicle to focus on will likely now be clear: the 2021 Ram 1500 TRX. This new model from Ram is already standing its ground as a model of superior versatility and performance. Expanding on the legacy that Ram has established in pickup trucks for years, the 2021 TRX makes for a drive that can handle any environment with ease and comfort, making it an ideal vehicle for anybody who likes to test their limits. And we at Findlay CDJR in Findlay, OH, are here today to tell you a bit more about it.
Conceptualization
The concept of the TRX can be traced back all the way to 2016 when the model was first debuted at the Texas State Fair. What made the TRX legendary all the way back at this point in time was its sheer ability to perform; carrying a 6.2-liter engine, the truck was able to hypothetically exceed performance at great lengths for a pickup truck, back when pickup trucks were typically seen as slow vehicles with limited mobility. This highly charged engine, on the other hand, in addition to huge wheels, made the TRX an outstanding truck for both the road and off-road conditions in a way that had not been seen before.
The intentions were to develop the TRX model over the next five years. And finally, the waiting is over for the 2021 Ram 1500 TRX. But what is it about the TRX that makes it such an outstanding model of pickup truck? The answer is that it manages to perform in a way that no other pickup truck has been able to before, which we are going to get into now.
Driving the TRX
Back to the present, the new 2021 Ram 1500 TRX looks to deliver on the original design's projected milestones in performance, making a pickup truck that redefines what a pickup truck can be. Starting with a new and improved 6.2-liter HEMI V8 engine, the new TRX can boost a hefty 702 hp and 650 lb-ft of torque. Being able to reach 60 MPH in just 4.5 seconds, Ram's new TRX model makes a drive that is both comfortable and efficient for journeys of all lengths. This feat has largely been untouched by pickup trucks, making the strength of the 2021 TRX's engine not only a standard for the model but pickup trucks in general.
Not only is the engine stronger, but a new filtration system was introduced into the model's engine bay. This makes for a healthier engine, which will last longer, cost less in terms of future repairs and maintenance, and makes for better performance in environments where traditional filtration would typically pose an issue, such as sandy conditions on the coast or during winter and spring with snow and mud. Combining these functions, Ram has created a pickup truck that can perform remarkably more efficiently than pickup trucks of the past.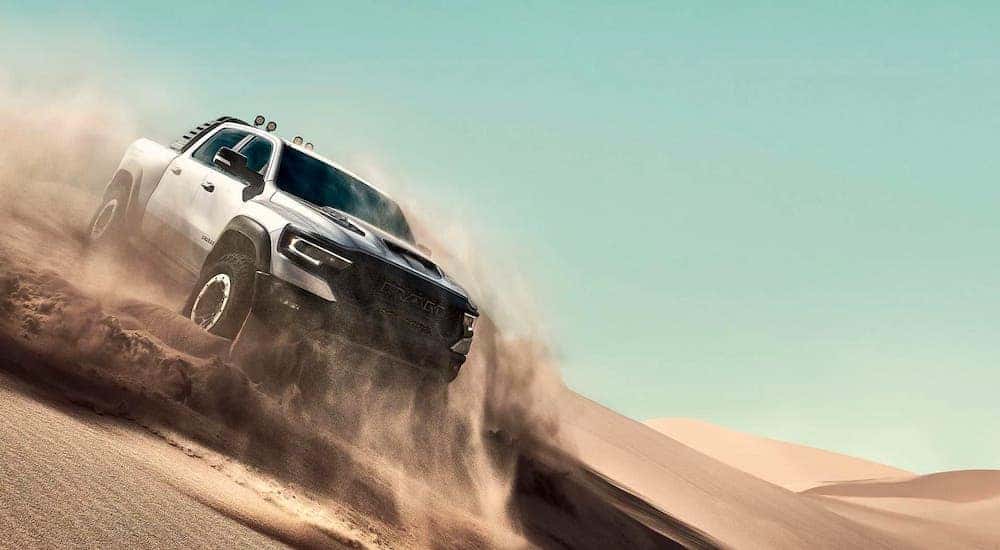 Controlling the Weather
The 2021 Ram 1500 TRX was built with an all-encompassing experience in mind, and so all terrains have been taken into consideration when developing the newest addition to the model. With a 45/55 torque split, you will find that the 2021 TRX can perform swimmingly in snow, ice, mud, and even sandy terrains, a fact that makes the model an extremely versatile truck for all types of adventurers.
That is not all; by implementing a 50/50 torque split, rock mode can handle most mountains and hills that come its way. Furthermore, by utilizing Selec-Speed Control to hold a set velocity, you'll find that every trip off-road is not only possible but exceptionally comfortable regardless of how many bumps come your way. All of these innovations have contributed to making the 2021 Ram 1500 TRX one of the safest pickup trucks on the market, able to handle weather conditions of all kinds.
Technological Innovation
With all of these different driving modes and off-roading features, safety may likely come into the question. After all, nobody can fully prepare for what lies in an off-road journey. And often enough, trucks do not make safety equipment and features a priority. That is until the 2021 Ram 1500 TRX came to the market. In the TRX's new addition, Ram has utilized new technological developments to make each trip safer for both the off-road and city driver. Each 2021 Ram 1500 TRX comes with a heads-up display (HUD), which displays information, like incoming phone calls, on the windshield so that your eyes never leave the road. Safety is practically promised.
And Ram's action on these promises of enhanced safety has been outstanding over the years. Last year, the 2020 Ram 1500 rated very highly with IIHS because of its usage of daytime running lights and other innovative safety features. And fortunately, this has been a consistent trend, with the 2021 Ram 1500 TRX delivering on this responsibility with outstanding safety for all on the road.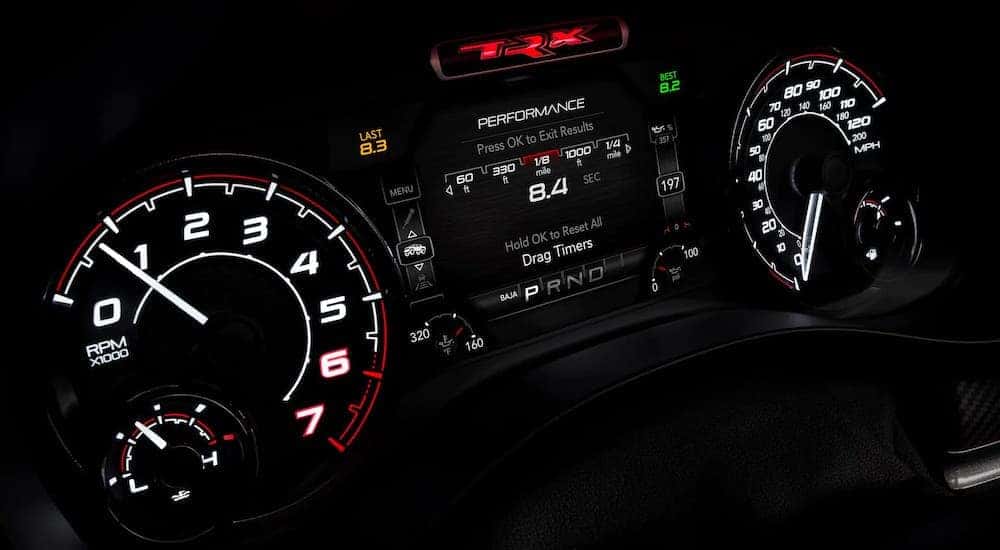 Pricing for the 2021 Ram 1500 TRX
With all of these great features, you may be asking yourself how much a 2021 Ram 1500 TRX costs. Starting at $70,095, the 2021 Ram 1500 TRX may seem to be higher than normal. However, this price is more than fair for a truck of this prestige; ranking highly in performance, safety, and comfort, the 2021 TRX is a pickup truck far exceeding all previous pickup models' standards before it. Naturally, a price of this size translates to quality at its finest, and Ram has undoubtedly delivered in most areas for the TRX.
The Ram 1500 TRX also comes as a Launch Edition. However, with only 702 trucks developed, the Launch Edition does come with a reasonably higher price tag than the standard edition, if you can find one. That said, the Launch Edition offers customization that far exceeds that of the standard release, so it may be beneficial if you are looking for a truck you can really fine-tune to your tastes. Either way, Launch Edition or not, this is an extremely powerful and useful truck.
Bottom Line: A Car for Everybody
In all, the 2021 Ram 1500 TRX is a truck ahead of other pickups on the road when it comes to mastering the environment around it. With innovative engines, the 2021 Ram 1500 TRX offers a drive that cannot be compared in both comfort and performance. And this is only amplified by the new safety features that the truck boosts.
All of this makes the 2021 Ram 1500 TRX an ideal partner for every type of adventure that the road has to offer. Whether you are looking to escape to the lakeside, the mountains, or even just looking for a night on the town, the 2021 Ram 1500 TRX has shown that it has the capabilities to handle any kind of journey. Truly, Ram has made improvements that do redefine the capabilities of a standard pickup truck. So, what are you waiting for? The TRX could and should be your next vehicle.