5 Things to Keep in Mind when Shopping for a Used Jeep Cherokee
Although there's certainly plenty to be said about the joy and prestige that comes with driving a new car, choosing a used model is a fantastic way to save some money and still get a quality vehicle. Of course, it's essential that you pick the right place to buy from, which is why when you search "used car dealerships near me," you should do research on the results and only trust those with a proven good record. With all of that in mind, if you're interested in a used Jeep Cherokee, then there are some other things you should consider before you head out shopping.
We have a lot of people come to us at Findlay CDJR with numerous questions about which model has the features they want and the options they need. While we love answering these questions and working closely with our customers, we also know that sometimes it's easier to have some things figured out ahead of time. So, today, we thought it would be helpful to go over five major things you should keep in mind when you're shopping for a used Jeep Cherokee.
#1 – The Basics
First things first, let's talk about what you should expect with the Jeep Cherokee, regardless of other, specific details that we'll get into in a moment. The modern Jeep Cherokee is a compact crossover SUV, which means it's built on a car platform rather than on a truck platform like a conventional SUV. As a compact model, it has two rows of seats with standard seating for up to five passengers total and has a rear liftgate just like you would expect.
Since it's a Jeep, you can get some impressive off-road performance with it, particularly if you choose a used model with a trim and options aimed at going off the beaten path. Most of the used models you'll find will be from 2014 or later (we'll explain why in a moment). While a 2014 Jeep Cherokee is an excellent choice, you might want to look for a model from 2015 or later since the first year in any generation can have some growing pains to get past.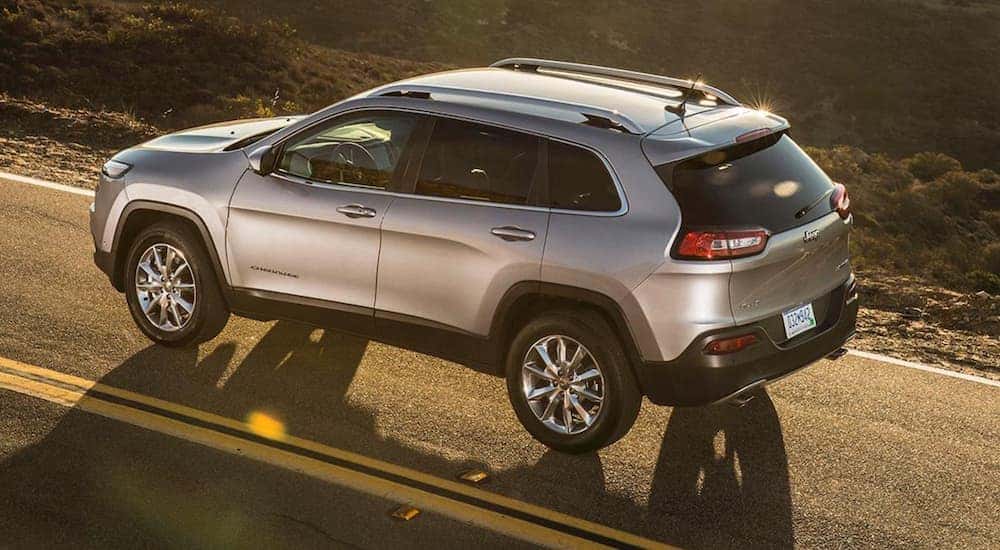 #2 – The Jeep Cherokee's History
If you go back far enough, you'll actually see used Jeep Cherokee models from 2001 or even earlier, potentially going back all the way into the 1970s when the name "Cherokee" was used for a version of the Jeep Wagoneer. The Jeep Cherokee really came into its own starting with 1984 models and continued throughout the 1980s and 1990s. As the Jeep Grand Cherokee became increasingly popular, however, they decided to rename the standard Cherokee to try to avoid any potential confusion.
Starting with the model year 2002, what we would think of as the Jeep Cherokee became the Jeep Liberty here in the US – though the Cherokee name was used in other countries. For the 2014 model year, however, it was once again called the Jeep Cherokee, and most of the models you'll find at a used car dealership near you will be from this most recent generation. If you want to broaden your search to slightly older models, then look for a used Jeep Liberty.
#3 – Recent Models
When you are looking for a used Jeep Cherokee, a good place to start is likely with the more recent models. Looking at models from 2014 to 2017 will provide you with some of the latest technology and low mileage, all at a much lower price than a new vehicle. So with that said, let's take a brief look at what you should know about some of the recent model years.
2014 – The first year for the fifth generation of the Jeep Cherokee. Four trims were originally available: the Sport, Latitude, Trailhawk, and Limited (we'll get into them more later on). A 2.4L 4-cylinder engine was standard, with a 3.2L V6 available, both with a 9-speed automatic transmission.
2015 – Only a few differences for 2015 models, including a stop-start system for the V6 engine to improve fuel economy. A rearview camera became standard on the Latitude and Trailhawk trims.
2016 – Very minor changes for 2016, including an updated Infotainment system for those models with an 8-inch display.
2017 – A new high-end trim, the Overland, was introduced for 2017 with 18-inch wheels, advanced safety features, and numerous interior upgrades like leather and wood details and a 9-speaker sound system.
As you can see, a used model from 2017 will give you some of the best available features and refreshed exterior. These are models you'll often find fresh off a lease, which means they are typically in excellent condition.
#4 – Trims to Watch For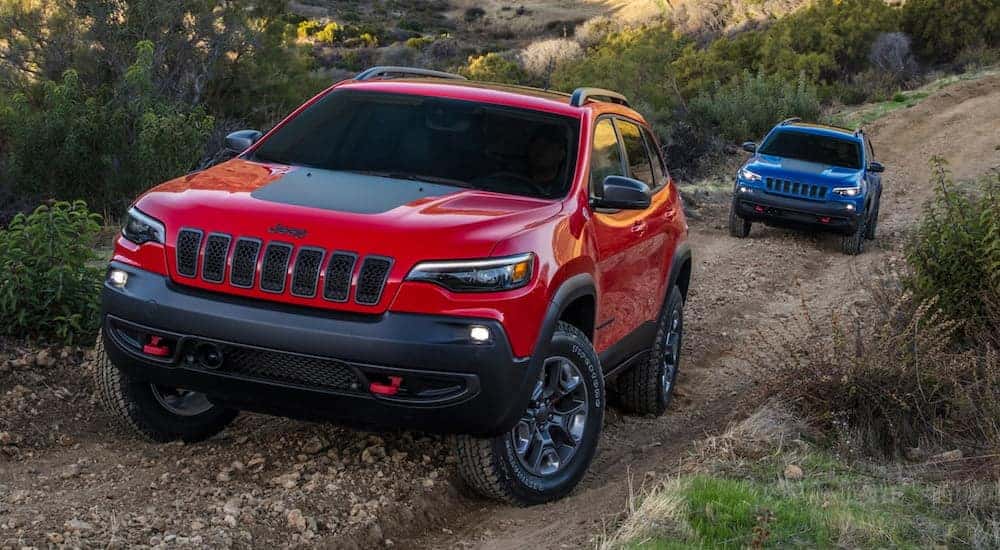 As we just saw, four trims were originally available for the 2014 Jeep Cherokee, and that remained the case for the first couple years that followed it. The Sport trim was the base model, and you can find it with a 5-inch infotainment display, a 6-speaker sound system, and the standard 2.4L I-4 engine. The Latitude trim features an upgraded 8-inch infotainment display and a premium sound system.
If you're interested in going off-road, then you should look for a used Jeep Cherokee Trailhawk, which is the trim designed for the best off-road performance possible. It is only available with 4WD, features 17-inch wheels with all-terrain tires, and has a locking rear differential. Finally, the Limited features 18-inch wheels and all-season tires, with heated front seats, leather upholstery, and other great features.
Starting in 2017, the Overland trim features 18-inch wheels, great safety features like rear parking sensors and blind-spot monitoring, and luxury details that include a leather-wrapped instrument panel, wood steering-wheel inserts, and gorgeous leather upholstery. Although some specific details might change from one year to the next, in general, this gives you a sense of what to expect and look for when considering different used Jeep Cherokees you'll find.
#5 – Powertrain Options
The standard engine you'll see on a lot of used Jeep Cherokees is a 2.4L Tigershark I-4 that provides you with up to 184 hp and 171 lb-ft of torque. This is a fine engine and has been standard on most trims during this generation. There's also been an available 3.2L Pentastar V6 engine that delivers up to 271 hp, and 239 lb-ft of torque, which you can see is far more powerful and certainly makes a difference in how the Cherokee performs. Fortunately, both engines come with a 9-speed automatic transmission, so no matter which one you find, it'll be a blast to drive.
On newer models, the Overland trim comes with a more powerful 3.2L V6 engine standard. A new 2.0L Turbocharged I-4 engine can be found on some models, providing up to 270 hp and 295 lb-ft of torque for exceptional performance. Front-wheel drive is standard on all but the Trailhawk trims, with 4WD available on them – so you can potentially find a used Jeep Cherokee in any trim with 4WD.
Visit Findlay CDJR
All of this information can seem like a lot to start with, but the more you know now, the easier it is for you to figure out which models will meet your needs and which won't. Come visit us at Findlay CDJR to find out more, and we'll help you find the perfect used Jeep for your next adventure.